Usage Notes
1806 saw the first illustration ever published in the Times, and improved technology and reduced taxation made illustrations a central feature of the nineteenth-century press. Illustrations became central to new journalistic genres such as investigative journalism, though photography did not become a central part of newspapers in the UK until 1904, with the Daily Mirror. Illustration technology was most significantly used in advertising around the world, with improvements in technology ensuring that illustration played a greater role in the press globally in the second half of the nineteenth century.
Examples:
Example of an illustrated newspaper. Gleason's Pictorial, 20 September 1851. Wikimedia Commons.
"Drawing on emergent reprographic media, initially wood engraving (which allowed text and illustration to be printed together) and, to a more limited extent, lithography and then a variety of photo-reprographic techniques, illustration was a central attribute of many nineteenth-century periodicals…" [DNCJ, BM/AGJ, 304]
"Graphic was published on Saturdays, and 'Place aux Dames' appeared every week, typically in the middle of the newspaper and on one page; often, her paragraphs make up the top and bottom third, with illustrations of some recent event, sometimes a sporting event, comprising the middle third; sometimes her paragraphs take up the left two-thirds of the page, with unrelated illustrations on the right." [Cogdill, 182-83]
"An assignment to do a double-page spread, with illustrations , for the Sunday issue of the Globe brought him into close relationship with the art department." [Kwiat, 112]
"The ActivePaper Archive, created by Olive Software, used an image processing technique called 'segmentation,' which breaks each page of newspaper text down into its smaller information units (articles, pictures, advertisements)." [Edmund King, 175]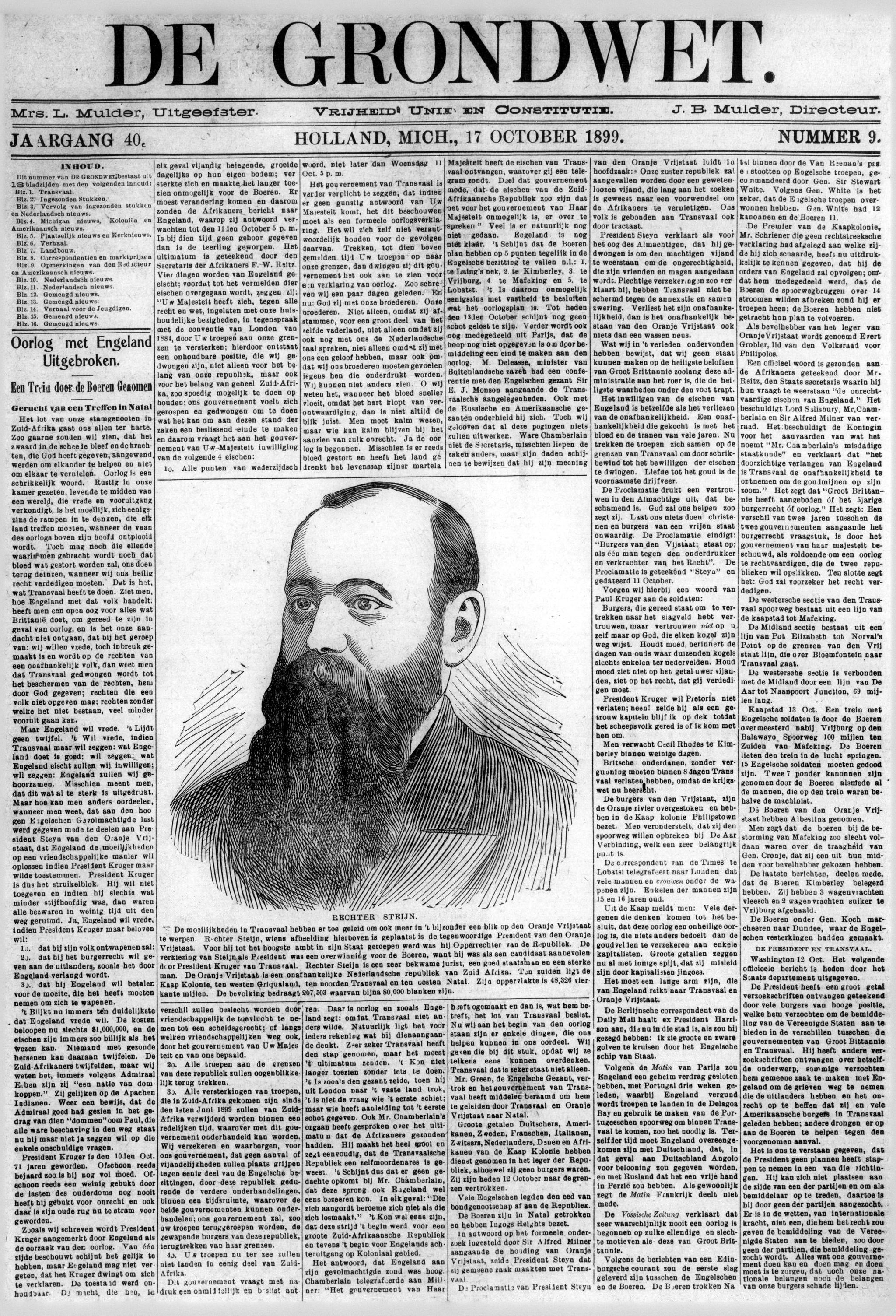 Example of an illustration within a news item. De Grondwet, 17 October 1899: 1. Delpher.